JX0
The next generation of task-support vehicle
Stock Level
Lead time applies
Lead time applies
Lead time applies
The all new Lithium-ion powered JX0 Vertical Order Picker from EP Equipment combines a highly stable mast, with soft hydraulic controls and electronic power steering.

With a lift height of 3000mm you can easily pick up to 90kg of items and store them on the picking platform, which is hydraulically operated. The 120Ah Lithium-ion battery features an integrated Battery Management System (BMS) for smart charge/discharge management and extended battery life.

JX0 plays out its strengths in small-volume order picking and bulk-retail stocking applications. JX0 is designed to reduce injuries in the work place and increase efficency in the warehouse.

An AGM battery option is available for lower intensity applications.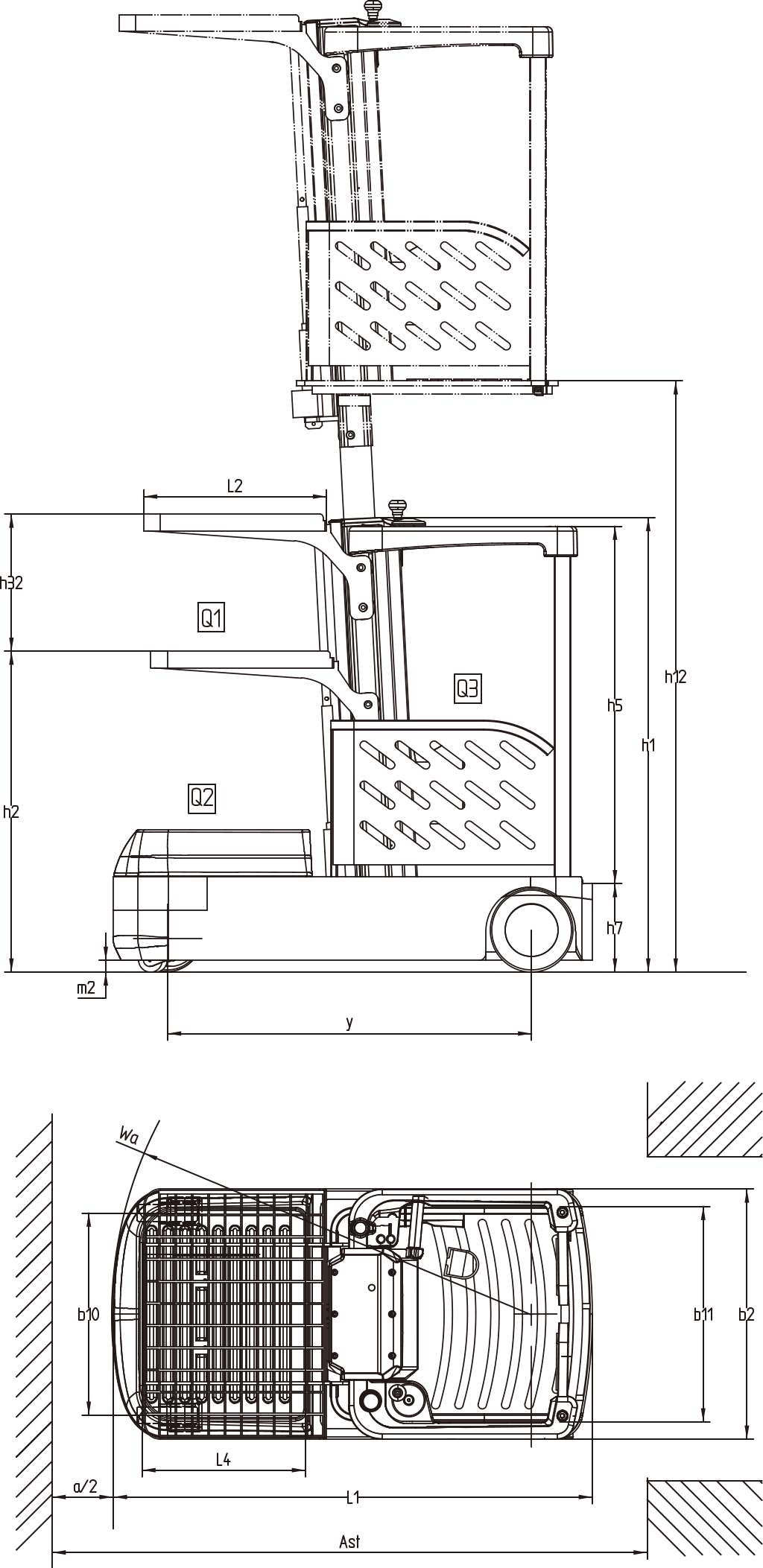 Key Parameters
Manufacturer
EP
Model designation
JX0
Drive unit
Electric
Operator type
Standing
Rated capacity on upper platform
Q1
kg
90
Rated capacity on lower platform
Q2
kg
110
Rated capacity on standing platform
Q3
kg
136
Wheelbase
y
mm
1095
Weight
Service weight (including battery)
kg
800
Axle loading, laden, drive wheels/load wheels
kg
Axle loading, unladen, drive wheels/load wheels
kg
370/430
Wheels
Tyre type, drive wheels/load wheels
PU /rubber
Tyre size, drive wheels (diameter*width)
mm
Ф210×70
Tyre size, load wheels (diameter*width)
mm
Ф250×100
Wheels, number, drive/load (x=drive wheels)
mm
1x +2
Track width, front, drive end
b10
mm
545
Track width, rear, load end
b11
mm
640
Dimensions
Height, mast lowered
h1
mm
1365
Seat height/standing height
h7
mm
275
Stand height, elevated
h12
mm
3060
Lift height
h32
mm
500
Overall length
L1
mm
1440
Overall width
b2
mm
750
Ground clearance, center of wheelbase
m2
mm
35
Fork dimensions
L2
mm
540x740
initial height of front cargo platform
h2
mm
870
Control handle height
h5
mm
1040
Fork dimensions
L4
mm
490×630
The channel width
Ast
mm
1850
Turning radius
Wa
mm
1260
Performance
Travel speed, laden/unladen
km/ h
6/6.5
Lifting speed, laden/unladen
m/ s
0.213/0.225
Lifting speed, laden/unladen
m/ s
0.023/0.028
Lowering speed, laden/unladen
m/ s
0.230/0.233
Lowering speed, laden/unladen
m/ s
0.30/0.29
Max. gradeability, laden/unladen
%
5/8
Service brake type
Electromagnetic
Power
Drive motor rating S2 60 min
kW
0.65
Lift motor rating at S3 15%
kW
2.2
Battery type
Lithium-ion NMC
Battery voltage/capacity (5h)
V/Ah
24/120
Battery weight
kg
45
Battery dimensions (including BMS)
mm
465*259*335
Charger output
V/A
24/30
Other specifications
Type of drive unit
DC
Steering type
Electronic
Sound pressure level at the driver's ear
dB (A)
74
24 month (2000hr) full warranty